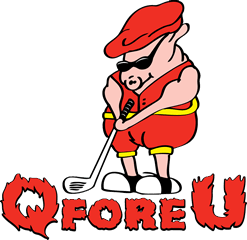 Competition Cook Team:
Award-Winning BBQ and Catering!
Catering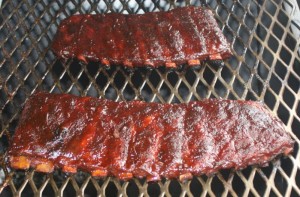 Q 'FORE" U offers drop-off catering of Competetion Pulled Pork, Peacan Smoked Ribs, Steaks, Chicken. We also do some onsite cooking for golf tournaments and charities. We also do a large selection of mini and micro cheese cakes. Give up a call and see if we can help with your next event.
Menu
Chicken Ranchero Pizza
Recipe by Kris P
1 Store Bought Pizza Crust
4 Tbsp Smokin' Coles Sauce
2 Tbsp Ranch Dressing
1 Cup Cooked Chicken, diced or shredded
½ Cup Frozen corn, defrosted
2 Tbsp Pickled jalapeno rings
1 ½ Cups Shredded Monterey jack cheese
2 Tbsp Chopped fresh cilantro leaves
Directions:
1. Preheat oven to 450˚F.
2. Roll out the pizza crust and place on a pizza pan or large baking sheet.
3. Spread 2 tbsp. of Smokin' Cole's Sauce and 2tbsp. of Ranch dressing all over the crust.
4. Mix 2 Tbsp. Smokin' Cole's Sauce with the chicken.
5. Top the pizza crust with the chicken, corn, jalapenos and cheese.
6. Bake 8 – 10 minutes, or until the cheese melts and the crust is golden.
7. Top with fresh cilantro.
Tip: Preformed store bought pizza crusts also work very well.
Latest Updates
Demo/ Events outside competeion
2017
Q 'FORE" U will be cooking for at different Fund-Raisers and Community Events thru out 2017  please check back or follow us on Facebook.
Radio / TV Appearances
Q "FORE" U will be doing Tasting Demos September thru December 2017 through out the midlands of SC 
 Mark will be on air as a guest 2 local morning shows here in Columbia this September and November.
Testimonials:
Thanks for cooking for Reids rehearsal dinner, the steaks were unbelievably good.
KD